CONGRATULATIONS!
NOW YOU MIGHT WANT TO RAMP UP YOUR TRADING SKILLS BY TAKING A LOOK AT MY PRO CURRENCY STRENGTH METER!
HERE ARE THE PRO FEATURES:
My NEW buy, sell, close button that places your initial stop and take profit levels with  ONE CLICK… on your chart and with your broker, at a risk to reward ratio of 1:2… so your take profit will be double the risk.

And you can choose to trail your trade with my BUILT-IN special Trade Manager which offers you scalp, day trade and swing trade preset files as well as CFD set files…
Choose your set file ahead of time depending on whether you want to scalp, day trade or swing trade, and it will move your initial stop to Break Even at your desired number of pips gain, then book 50% of your lot size and then continue to trail =
A RISK FREE TRADE!!
ALL OF THIS WITH JUST ONE CLICK!
SIMPLE TO USE AND VERY PROFITABLE!
I'VE ALSO CREATED A GOLD AND SEVERAL CFD SET FILES, INCLUDING THE DE30INDEX (DAX), US30INDEX (DOW), USTECHINDEX (NASDAQ), US500TECHINDEX (S&P500), DXY (DOLLAR INDEX), UK100INDEX, AND THE JAPANINDEX, WHICH ALL HAVE INDIVIDUAL SETTINGS.
I also include an Entry Arrow that gives you buy and sell popup audio alerts…it's best used as a confirmation when all other indicators line up.
The Signal Hot Dot gives you earlier popup alerts when it thinks it's found the top and bottom and tells you to look for a buy or sell trade.  The Entry Arrow is a great confirmation.
You'll also receive a Forex Factory calendar news event alert indicator that shows you news events on your chart and will alert you 10 min before a red news event.
Your template will include TWO extra Fibonacci indicators, one that draws Support and Resistance lines automatically and includes a Pivot line… and…
the BEST extra Fibonacci indicator that draws red and blue overbought and oversold zones right on your chart automatically so that you know what territory you are in or are approaching.
Both fibo indicators make it very clear what's happening in price action and can be used on any time frame.
HERE'S A PICTURE OF MY PRO TEMPLATE WITH EVERYTHING, INCLUDING MY ONE CLICK BUY, SELL, CLOSE TRADE BUTTON: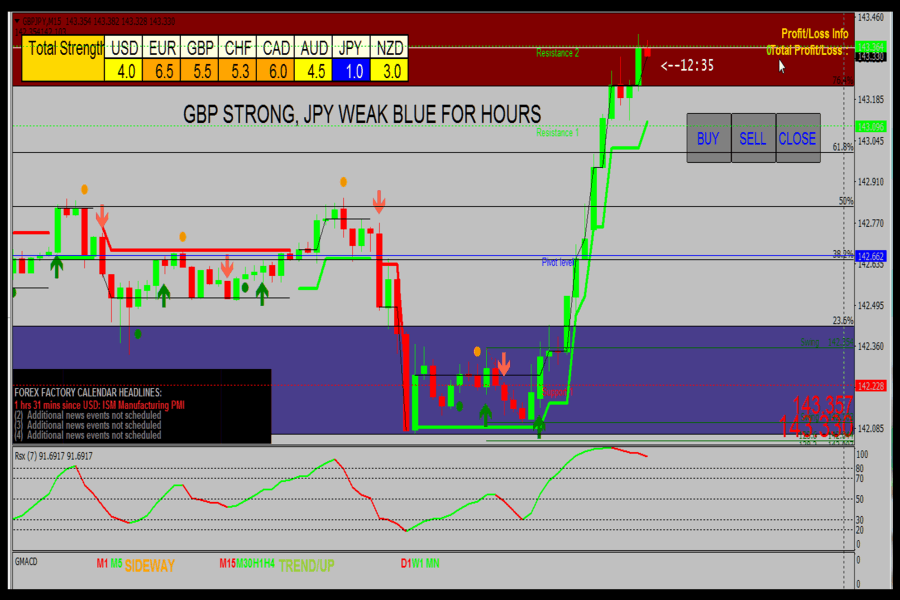 You can see in the GbpJpy M15 chart above, that the price formed a nice double bottom in the blue oversold zone and zoomed up with increased GBP strength vs a very weak JPY.  It reached the fibonacci overbought red zone and it hit the fib resistance level 2.  The overbought RSI turning red in the bottom momentum window is a clue to exit.
Buy the strong currency, sell the weak currency.
YOU CAN DOWNLOAD THE PRO CSM TEMPLATE INTO ALL OF YOUR OWN DEMO AND LIVE MT4 ACCOUNTS AND THE PDF GUIDE HAS ALL YOUR TRAINING VIDEOS, SCREENSHOTS AND EXPLANATIONS.
REMINDER:
The CSM Template can be used with any trading system of mine, or any other system  that you like and trust.
However, I really like using the CSM indicator on my Simple Neon Breakout chart.
Here's a short video showing you how to add the CSM indicator to my Simple Neon Breakout chart or any other trading system chart:
You can take a look at the Simple Neon Breakout System here:
https://daytradeforexcolor.com/Simple-Neon-Breakout